Community Referral Program
Rouse Community Referral Program
The Rouse is currently seeking candidates for State Tested Nursing Assistants (STNAs), STNA Trainees, Direct Care Workers, Home Care Aides, LPNs, and our Dietary Department. Our Employee Referral Program often helps us bring in new candidates, but now we want to extend those benefits to our community! Now you can help us find the next great Rouse employee and make a little money in the process!
We are very excited to announce the launch of our new Community Referral Program. Anyone who is not currently an employee of the Rouse can participate in this program. If we hire a qualified candidate you recommend, you will be eligible for a $1000 reward! Depending on the position, the referred candidate may be eligible for a Sign-On Bonus, which means more money for you both!
This program has been designed to support and encourage referrals by individuals not currently employed by the Rouse. This means that anyone who loves the Rouse can benefit by sending us the best people they know to get the job done here. The referral must be qualified and submitted in accordance with our guidelines, and the hired referred candidate must be employed by the Rouse continuously for at least 6 months.
For more details, check out the official eligibility here.
Check out our open positions on our careers page and keep us posted if you know the just right person for the job!
The Rouse Estate is a proud equal opportunity employer. We are committed to employment regardless of race, color, ancestry, religion, sex, national origin, sexual orientation, age, citizenship, marital status, disability, or Veteran status, and consistent with all applicable federal and state laws.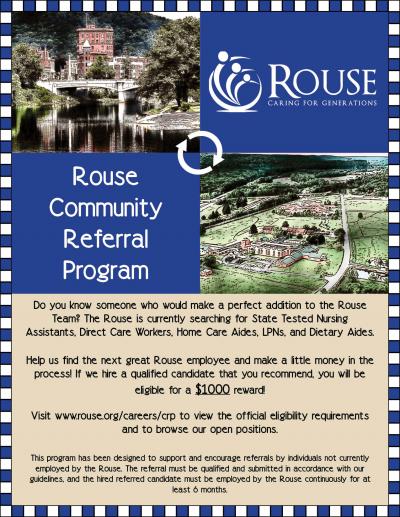 Rouse Community Referral Form: